The One with the Info box
Season 1, Episode 21
Air date
Smarch 32, 2005
Written by
Mr. Writer
Directed by
Ms. Director
Episode guide
Previous
Older episode
Next
Newer episode
Section one
Edit
What does the name of this episode mean? It's so meta.
subsection 1
Edit
I think this is weird
sub-subsection 9
Edit
Time to get smallfffff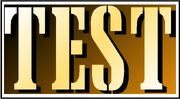 Section two: Plot
Edit
This is the story of Bert building a page on his test wiki. It's a real nail biter.
Section three: list of characters
Edit
Currently this is a one man show
Ad blocker interference detected!
Wikia is a free-to-use site that makes money from advertising. We have a modified experience for viewers using ad blockers

Wikia is not accessible if you've made further modifications. Remove the custom ad blocker rule(s) and the page will load as expected.